Z06R GT3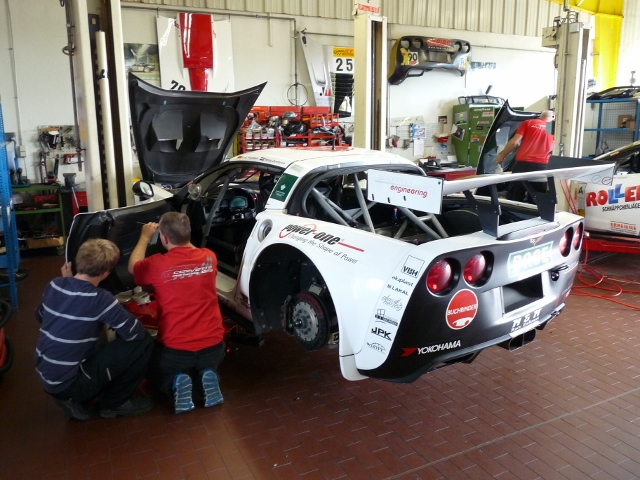 During the 2005 the FIA GT3 was founded by the SRO and contacted all manufaturers like Porsche, Ferrari, Maserati, Aston Martin etc to enter their GT3 vehicles in the FIA Championship.
As Corvette USA-GM had no GT3 available a decision was made by Koos Pettinga of Corvette Europe to transform selected Z06 road cars into a new breed of racer to compete in the world's top GT3 championships.  The first export car (vin #83 Z06) was sent to Team Carsport Europe owned by well know racing pilot Toine Hezemans (owner of a GT1 C6.R in FIA GT) for evaluation. Based on their racetrack test results, Team Carsport saw instant potential in the car. Hezemans contracted Callaway Competition in conjunction with Koos Pettinga, manager at Corvette Europe, to convert the street Z06 into a Z06R GT3
Director of Callaway Competition in Germany, Ernst Woehr, jumped at the chance to work on the new Z06. Corvette Europe, Koos Pettinga, managed to receive 6 GM CTF proto type cars to be shipped to Europe in the winter of 2005/2006.
The first car was stunning. After a great inaugural season in 2006 in the form of 2 teams with each 3 cars, another new group of teams took interest in the car for 2007. The first customer teams to take ownership of the new car included series like: BelCar, Dutch Supercar Challenge, VLN Germany and the Italian/Spanish GT Open. With new teams, names, sponsors, and drivers, the Z06R looks even stronger for the new season.
The Z06R went on to claim wins and propelled Callaway Corvette to claim the first series title win for the car: the 2007 FIA GT3 Team Champion and the 2008 FIA GT3 Drivers Champion. In 2009 it won the German ADAC GT Master manufacturer Team Championship and the 2010 FIA GT3 Drivers Championship. For the new 2013 season, the Z06R will be seen with even more teams and new mechanical updates (including the addition of paddle shift transmission).