NEWS
ADAC GT: Red Bull Ring Report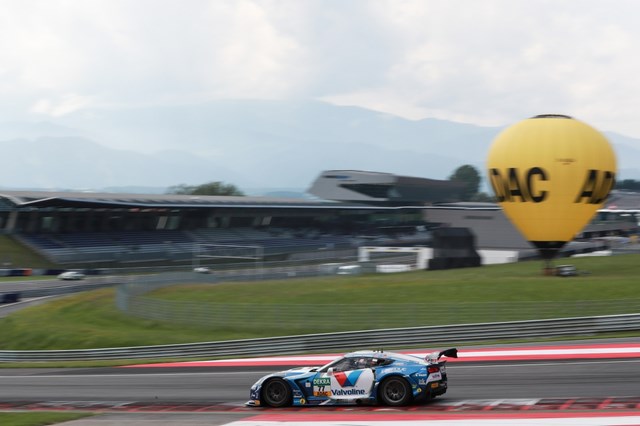 The German based ADAC GT Masters returned once again for Round 4 after a thrilling battle last time out at the Lausitzring. This time, the hills of Austria set the stage for what would be another fierce showdown between the world's best GT3 manufactures and teams. Callaway Competition once again brought their Corvette C7 GT3-R, refreshed and ready. Due to the team's success at the previous race (which included 2 podiums and a win), a 10kg weight increase and 1mm less restrictor was provided. Despite both these changes and the success ballast, the C7 GT3-R performed flawlessly.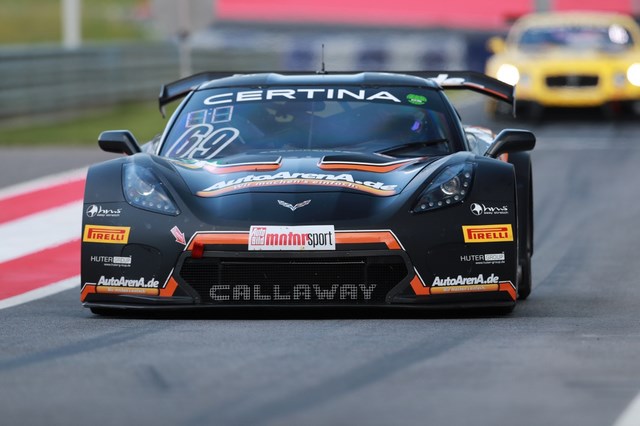 Qualifying 2nd for Race 1, Jules Gounon and Daniel Keilwitz captured another podium for the Nr77 machine. Rounding out the teams results saw 4th (for the nr69), 9th (Nr13), and 10th (Nr31). While race 1 yielded a solid spread of points for the team, race 2 proved a bigger challenge for a repeat. After a blisteringly tight Pole lap by Daniel Keilwitz, the German/French Duo brought home their Number 77 C7 GT3 2nd behind the Nr24 Audi. However, there was a late race disqualification for the Audi (due to an illegal Air intake component). This moved the Leading Corvette to 1st. Meanwhile the Number 69 C7 suffered a terminal mechanical failure while fighting in the top 5. RWT Racing was running as high as 4th overall but unfortunately suffered a 30 second penalty due to a Safety car infraction of 0.004 seconds. This put them back to 17th overall.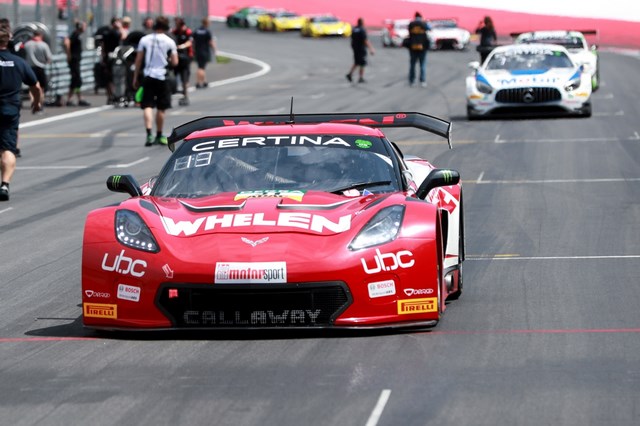 The weekend also saw the race debut of American Driver Eric Curran in the Number 31 Whelen Engineering backed machine. The IMSA regular and Boris Said were a formidable duo, posting solid lap times in both Qualifying and races. For Race 1, Curran and Said vaulted in to the top 10 (of 34 Entries). Qualifying two saw Curran Qualify 9th (only 0.172 off pole!). During a strong run in Race 2, an unfortunate issue with a spark plug wire pushed the nr31 to the back of the pack. Despite this setback, the American duo clawed back to 12th overall before the issue returned for a second time.
Despite the unfortunate luck in race two, Curran was overall very satisfied with the weekend: "Overall it was a really fun weekend." Explains the American. "The Whelen Red and White Callaway Corvette was really fast all weekend. Boris and I got comfortable really quick. We finished 10th in the first race Saturday and had a great run in Sundays race running in the 8th place until a spark plug wire came loose and we had to pit and went back to last place. It's too bad because I qualified only .17 of a second off the pole and ran the fastest race lap in Sunday's race. I think we could have had a solid top 5 finish. I still had a great time in the Whelen Corvette and am looking forward to the next race I'll be doing at Zandvoort in ADAC GT masters." Callaway now lead all Championship categories (including the Drivers by 29 points).


The next outing for Callaway Competition is the Nurburgring on the 5th of August.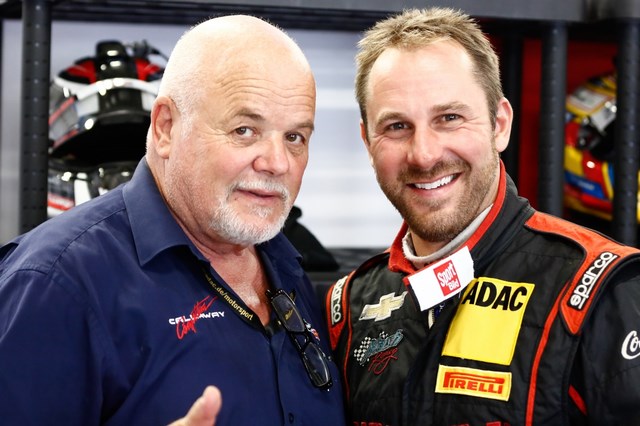 Team Quotes:
Giovanni Ciccone (Team Principal Callaway Competition): "I am very pleased to see the development of this season, that all our hard work and our efforts are paying off and that all this is being reflected in us leading the championship now. Daniel Keilwitz and Jules Gounon did a great job this weekend. But all our other drivers impressed with top performances as well and we can be proud of the whole´s team's performance. But we should not rest on our laurels now, but come back at the Nürburgring strong again in two weeks."
Daniel Keilwitz (Nr 77 Valvoline/Roller C7 GT3): "Our goal was to take the lead in the championship and that is what we have done. It was not an easy race with the extra ballast of 30 km from the second race at Lausitzring. We tried to stay clear of everything. Other teams had to fight quite hard. During the pit-stop phase, we lost a position, but in the end it was not tragic. Our race ran as planned: I had a good start and was able to set the pace from the front. We are pleased with the result and have extended our lead in the championship"
Jules Gounon (Nr 77 Valvoline/Roller C7 GT3): "Another race track that was new to me, but I found a good rhythm early on and I really liked the atmosphere and nature here. We are very happy about having taking over the lead in the championship. Big thanks to my team-mate Daniel (Keilwitz), who drove a fantastic race. P3 on Saturday was the maximum we could achieve. Both Porsche and Bentley were very strong. Now it is half-time and we are leading, it feels great. But the season is still long and we have to focus race by race."
Patrick Assenheimer (Nr 69 AutoArenA.de C7 GT3): "To start from 10th and finish in fourth is a great result. The car is great. We had a good start and did not lose a position. We managed to make up some ground during the race, also thanks to a few accidents of our competitors. Dominik (Schwager) drove a really good race. "
Dominik Schwager (Nr 69 AutoArenA.de C7 GT3): "P4 was the best we could achieve. We were not quicker than the ones running in front of us in the end. Every team had a little off during the race. We took advantage of that and drove through the field. A great result for Callaway Competition. The team did a great job. "
Eric Curran (Nr 31 Whelen Engineering C7 GT3): "All in all, it was a good weekend, it was just a shame that we did not finish in the second race. We started from P9 and we could have had an even better result than in the race on Saturday. There were a lot of firsts this weekend. This was the first race that I had done in the New Callaway Corvette GT3-R The first race at Red Bull Ring and my first ADAC GT masters race."
Boris Said (Nr 31 Whelen Engineering C7 GT3): "We really enjoyed the weekend, the track is great and the team did a really good job. It was a good feeling to finish in the Top-10 and in overall, the whole weekend was a fantastic result for the whole team."
Sven Barth (Nr 13 RWT Racing Z06-R): "Today we can show in particular, what we are capable. The technology played with, there were no problems, so it is not the big surprise for me because of the upward trend of us in the two races at Lausitz was already appearing."
Remo Lips (Nr 13 RWT Racing Z06-R): "A big compliment to RWT Racing. The today was really fun. The car was just fantastic and I am very happy about the initial result. It is a shame that such a thing happened (infraction) and I'm extremely sorry, especially for the team."