NEWS
ADAC GT: Season best for Wirth at the Red Bull Ring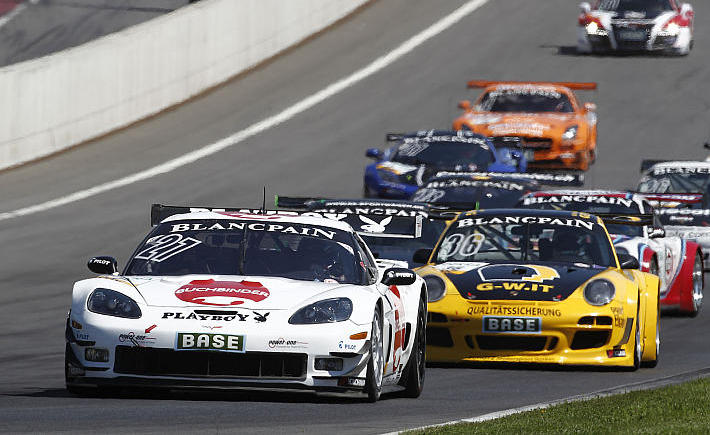 Having seen more than his share of bad luck in 2012, going into the second half of the ADAC GT Masters season this weekend Wirth commented that he had no expectations for what would happen - he was "simply going to take everything as it came". Strangely enough, that seemed to work for him and things turned around at the Red Bull Ring where the #27 Callaway Competition Corvette Z06 R GT3 enjoyed two top five results - their best of the season.

While weather threatened, and thoughts of last years' chaos in the wet loomed, the weekend managed to unfold nicely. With tough competition in a field of 40 cars, qualifying well is always a priority. Frentzen and Wirth both put in solid qualifying efforts on Friday and were pleased to be starting fifth for both races.

Despite their best efforts in Saturday's race they simply couldn't improve their position and had to settle for 5th place in what seemed to be a weekend that would be dominated by a parade of Porsches. "We were the best of the rest," Wirth said with a smile after the race. "While we didn't have much for the Porsches on Saturday, I was blocked in the first half by a slightly slower Porsche. I wanted to try for the pass, but I couldn't risk a race-ending incident trying to make a tight pass. We were right there though ... when he finally pitted I was about 1.5 seconds faster. Our goal was fourth, but we're certainly happy to get some good points and a top-five."
Hoping for a little momentum coming off their season-best finish, Sunday delivered a better result, but with a familiar side of disappointment.  Starting from fifth place, Frentzen held his own throughout the first half, but was spun by a competitor as he was entering pit-lane for the driver-change. As if one incident wasn't bad enough for the #27, as Wirth tried to leave his pit box he was impeded by a photographer.
Once back on track however, Andreas  put on an impressive show for the fans, pushing hard with Corvette power as he battled long and hard with the Ford GT for what would turn out to be the final step of the podium. "We were robbed today," began an obviously annoyed Wirth. "Being robbed of our first podium because of a photographer is extremely frustrating. That incident cost us three or four seconds getting out, and in the end we missed third by just over two seconds. We're happy to finally be within reach of the top-three, but it's frustrating to lose out like this. Hopefully though this is the turning point for us and we will see some more good points in the weekends ahead. The Lausitzring is just two weeks away - maybe there we'll finally have a trophy and some champagne!"