NEWS
ADAC GT: Spa Rd2 Preview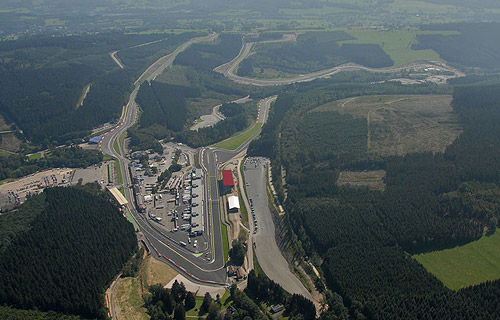 After a successful start to the season in the ADAC GT Masters, GT3 team Callaway Competition is hungry for even more. However, this weekend the team will face a new challenge for their newest spec Z06R: The legendary Spa Francorchamps circuit in Belgium. The last time this championship winning team competed at this great circuit, was under the guise of the FIA GT3 Championship in 2006. The team scored a 3rd place podium with driver (and former GM engineer) John Heinricy.

The team however, are hoping to carry their momentum from the previous race. Italian Diego Alessi arrives this weekend with previous experience at the Ardenes track, competing with Aston Martin, Ferrari, and BMW. "Spa is my favorite circuit. I can not wait to start there again after I did not go there now for three years," said Diego Alessi, who now has notched up his fourth ADAC GT Masters race win. "Spa has played a very big role in my racing career, so I'm looking forward to the two races there."

"At Oschersleben, we were very successful and spa should give us a good platform to keep the momentum up," said Daniel Keilwitz, who is also eagerly anxious for this weekend. "After the success at Oschersleben however, we must adapt with the recently acquired success ballast, which will make the steep uphill sections of the track impact us in a negative way."

Callaway Competition team boss Giovanni Ciccone is approaching this weekends race optimistically though. "Spa has always been a good track for us. However, it's already been a few years since we started there last time. I hope that we can continue to be competitive there. Diego and Daniel are aiming to earn some solid points, because after the success in Oschersleben, there is a lot of success ballast on board. Hopefully at Spa there will also be a good result by Andreas Wirth and Christian Hohenadel. Andreas Wirth has already driven a strong race in Oschersleben, and Christian Hohenadel needs some additional kilometers of experience with the Corvette again. But I think we can expect a lot from both cars at Spa."

For the two races in Belgium, however, Ciccone hopes for dry weather. "At Oschersleben, we have experienced very critical situations in the rain. This is not because of our Corvette, but more directed at this year's rain tires from Yokohama. They simply do not work on our car." In cooperation with Toni Seiler Racing, Callaway Competition brings to Spa Francorchamps two Corvette Z06.R's for Toni Seiler/Niclas Kentenich and Remo Lips/Lennart Marioneck.

Live links for this weekends racing can be found here.