NEWS
Australia: Trofeo capture top 10 at Phillip Island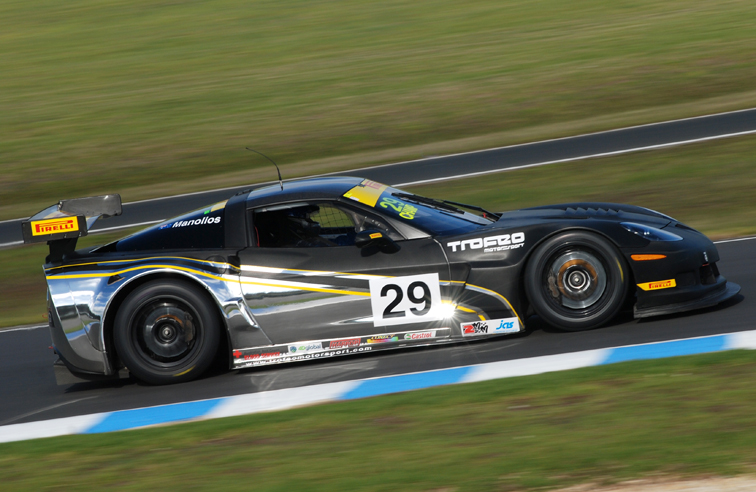 The Trofeo Motorsport team endured a testing start to the 2013 Australian GT Championship presented by Pirelli, but at Phillip Island during round three, a consistent run by Jim Manolios has seen the big Corvette move up the championship points table after two solid top ten finishes. "We've certainly had a rollercoaster ride so far this season," Jim admitted. "Bathurst's opening round was a ride and a half. From Greg Muphy's qualifying crash on the mountain after running with the leaders, to our overnight rebuild and stunning podium recovery, to the news that we'd be forced to miss round two after we were unable to receive parts to restore the car after our mid-race retirement during the 12-Hour.

"It's been quite a journey since Bathurst in February, but the team have done a brilliant job getting the car back to its pristine best, and with a couple of state series rounds under my belt, I'm ready to go." A conservative start through practice saw Jim running well inside the top ten, before everyone bolted on new Pirellis for qualifying. The Trofeo Motorsport Corvette Z06.R qualifyied tenth, immediately behind state series rival Steve McLaughlan in the car that took victory at Phillip Island 12-months earlier in the hands of Tasmanian Greg Crick.

"I'm pretty happy with that all things considered," Jim admitted. "I didn't get the perfect lap, but it was good enough for the fifth row right alongside last year's pole sitter." After running the opening round at Bathurst as part of a three-driver team alongside former V8 Supercar driver Greg Murphy and long-time friend ex-Ferrari F1 pilot Ivan Capelli, Jim elected to run Phillip Island alone, facing two one-hour races across the weekend.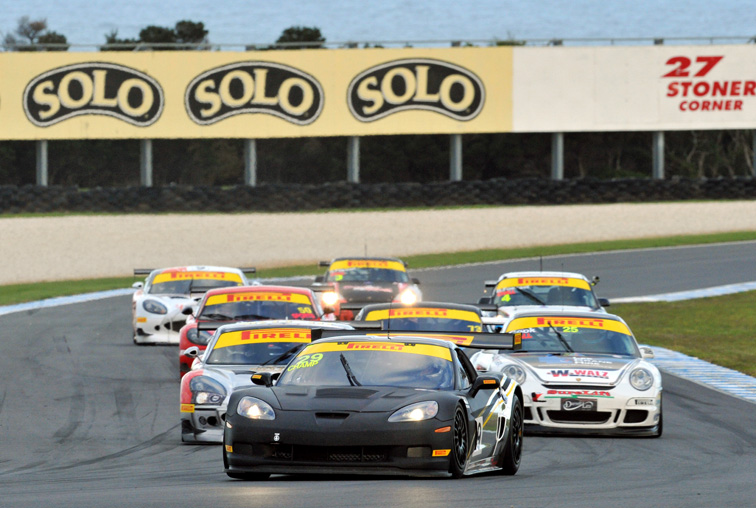 "I'm looking forward to the extra miles, and whilst I won't be challenging the leaders, I'll be able to challenge myself and be more prepared for the 3-hour race at the end of the year in New Zealand when Greg will join me again in the car for the season finale." Off the rolling start Jim was quickly in behind the leading Championship cars, holding a position inside the top ten until his mid-race pitstop. During the closing laps he moved aside to let McLaughlan's Dodge Viper through, having realised his state series rival was a number of laps down due to a lengthy pit stop, but what he didn't see was a charging Jack Perkins in the GT4 Ginetta tucked in under the Viper's rear wing, the Corvette ultimately losing track position to the part-time V8 Supercar driver.

"I knew I wasn't losing track position with Steve," Jim admitted. "But I couldn't see the Ginetta, and Jack was on a charge. By the time I saw him it was too late, and I'm kicking myself because I could have picked up the pace, I was just settling into a comfortable rhythm over the final few laps to make it home." Off the fifth row again for race two, Jim made it up to sixth place before his compulsory pit stop, the Trofeo Motorsport/Pirelli Corvette rejoining in ninth place, and ultimately holding position all the way to the one-hour mark.

"That was hard work," a clearly exhausted Manolios admitted post-race. "Thoroughly enjoyable, but hard work. I'm very happy with the end result. Two top ten finishes and an improvement in my outright pace in almost every session was just what I was looking for. Now it's on to Sydney in six weeks time (12-14 July), where I'll look at whether I continue to log laps myself, or whether to bring in a co-driver."

"The Corvette has been exceptional all weekend, and hasn't missed a beat. It's getting a bit long in the tooth having been built by Callaway in 2008, but we're hanging on for the new C7 which is due for release in the US later this year, and I think once that is homologated as a GT3 car, you'll see the Chevrolet name back at the front of the field. I'm really looking forward to the day that happens!"