NEWS
Dutch Supercar: Roger Grouwels looks ahead to 2013 season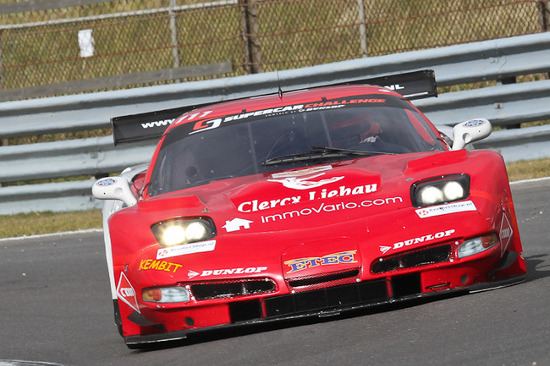 Veteran driver Roger Grouwels is looking forward to competing in the Supercar Challenge this season. Grouwels made headlines in the past with his famous Rudolph-Viper and beautiful Corvette GT1 C5.R. Last season Grouwels drove in the Blancpain Endurance Series with a BMW Z4 GT3. In addition he competed in the the Supercar Challenge with a Mosler. The lightweight Mosler always showed speed, but proved to be unreliabe. This year Grouwels has chosen reliability and he has decided to compete in the Supercar Chellenge with his Corvette GT1 C5.R.

Prior to the 2012 season Roger Grouwels very ambitious. After many years driving in the Supercar Challenge and other racing classes he chose to compete in the Blancpain Endurance Series.Yet Grouwels soon realized that "Blancpain in hindsight was not my thing, I still prefer driving alone for a championship," he explained, the BMW Z4 GT3 was bought for the Blancpain Series and it was quickly sold at the end of the season.

Roger Grouwels raced with the Blancpain and Supercar Challenge several times last year, with his BMW Z4 GT3 and the Mosler RaceArt Team. He and the Mosler had varying levels success of success with both fast times interspersed with reliability problems. This was the reason why Grouwels choose the Corvette GT1 C5.R for this season. "The Choice for Corvette was easy, it is fast and reliabile and because it is simply a nice fast American racer," said Grouwels.

But the Mosler is not completely out of the picture. "The Mosler goes to the penalty box this year," explains Grouwels. "The Mosler is basically faster than the Corvette but still not reliable. I want the Mosler to be tested this year to eliminate some of its teething problems. "Roger Grouwels is " looking forward to driving in the Supercar Challenge this year. For me still the finest championship," said Grouwels. "The atmosphere that prevails between the teams during the race weekends Supercar Challenge for me is very important."

For lovers of the Corvette GT1 C5.R it is also exciting to what colors the car Grouwels going to use. It is already certain that Grouwels will use Team RaceArt on his Corvette. "The yellow Corvette is on the bench and it will only come out of the garage in good weather," said Grouwels, He is also glad that his former head mechanic Marwin Moonen after a long absence is returning. "The team is now complete and for war!"

The RaceArt Corvette is being completely rebuilt. "I'm not in Le Mans so the car will carry the livery of RaceArt. However, the color of RaceArt this year will be slightly modified. That is still a surprise. "It thus remains as exciting in what colors Corvette will appear in. It is certain that Grouwels will be a serious contender this season with his American Corvette. He is a serious contender to secure the 2013 championship in the Super GT division.