NEWS
Grand Am: 8 Star Motorsports Rd3 Preview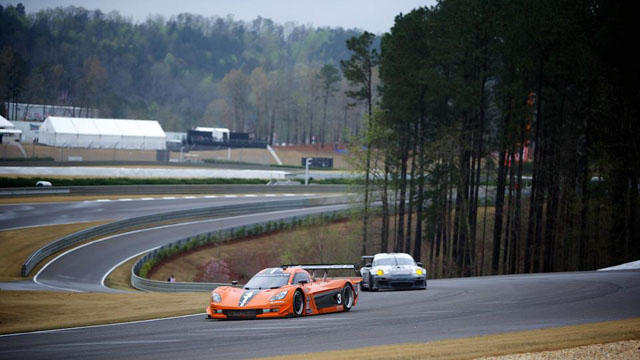 As the GRAND-AM Rolex Sports Car Series travels to Barber Motorsports Park this weekend, 8Star Motorsports will be looking to keep building momentum following an encouraging start to the season in the competitive Daytona Prototype division.

Saturday's two-hour Porsche 250 will again have Stephane Sarrazin join team principal Enzo Potolicchio in the No. 3 Corvette DP, as the new South Florida-based organization aims for its first podium finish in GRAND-AM competition. The orange-colored DP, carrying the support of Venezuela, recorded a season-best 4th place result in last month's GRAND-AM of The Americas event, following a late rally by the Frenchman.

This time, Potolicchio, Sarrazin and the 8Star crew are ready to take to the tight and twisty 2.3-mile, 17-turn Barber road course, a circuit that should particularly suit their Coyote-chassied Corvette DP. Last year's Porsche 250 marked the first win for the Corvette DP, which no doubt gives a boost of confidence heading into the shortest race of the season.

"I'm excited about this weekend as I feel we have a good chance with our Corvette DP," Potolicchio said. "The crew has been doing an unbelievable job back at the shop and I think we should be competitive this weekend. It will be another new track for Stephane but I have complete confidence in him, like always. I nearly finished on the podium here last year so hopefully we can do it this time."

Potolicchio is fresh off a successful two-day FIA World Endurance Championship pre-season test at Paul Ricard last week, which saw 8Star's new Ferrari 458 Italia top the time sheets in the LM GTE-AM class. Following Saturday's Rolex Series race, the Sebring and Le Mans class winner will return to Europe for the first race of the FIA WEC season at Silverstone on April 14, kicking off the team's international campaign.

"From here, the season gets real busy," Potolicchio added. "We have 12 races from GRAND-AM and the eight in the FIA WEC. I'm really looking forward to both of them and feel that we have a shot to win the championships. The growth of 8Star has been amazing. Our IMSA Lites program is up and running and we just took delivery of our first LMPC car. We're hoping for great things this year and beyond."

The Porsche 250 at Barber Motorsports Park opens with official practice on Thursday. Qualifying is set for Friday morning, with the two-hour sprint race beginning Saturday at 1:45 p.m. ET.