NEWS
Grand Am: GAINSCO/Bob Stallings Racing "Roar Before the 24" Report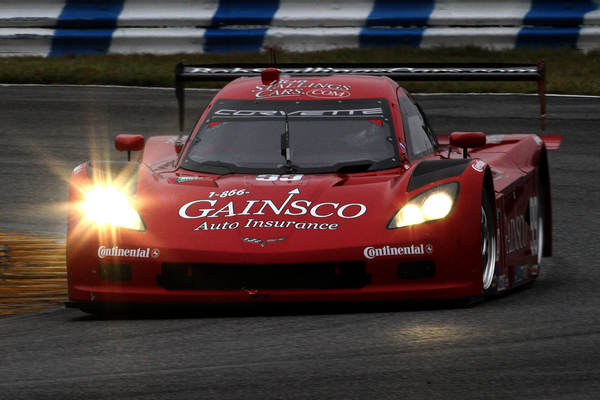 GAINSCO/Bob Stallings Racing, and drivers Alex Gurney, Jon Fogarty, Memo Gidley and Darren Law, worked through a productive weekend of testing at the Roar Before the Rolex 24 At Daytona, January 4 - 6, where the No. 99 GAINSCO Auto Insurance Corvette Daytona Prototype ran consistently in preparation for the Rolex 24 At Daytona, January 26 - 27.

GAINSCO and its drivers completed a full schedule of planned component and setup testing and left Daytona International Speedway relatively pleased despite missing the top-10 in the overall weekend standings.  GAINSCO's top lap of 1:43.048 (124.369 mph) in Saturday's morning session was good enough only for 12th overall in the three day test. "I think it was a good test," Gurney said. "We are still searching for some straight line speed, but in general I think the car is comfortable and that's what you want for a long race like this. We got through a lot of changes and found a pretty comfortable car for all of us to drive. It was good to get all of the drivers working together more. We fit in the seat well, everyone does the driver changes well and we are all communicating in a good way. I think everyone is pretty happy."


The fulltime drivers of the No. 99 "Red Dragon," Gurney and Fogarty will co-drive together with GAINSCO in a Rolex 24 At Daytona for the seventh consecutive year. "We are fairly happy," Fogarty said. "We did fortunately get quite a bit of dry running as it looked like we might have been rained out. The weather turned out to be pretty good, so we got a lot of dry running. That allowed us to go through a bunch of iterations, and I think we've honed in on a pretty good race setup and that was ultimately our goal here. I'm pleased with the race car and I think we can come here in a couple of weeks and have a car that's comfortable to drive and that's what you need for 24 hours."


Gurney and Fogarty will be joined in the GAINSCO/BobStallingsCars.com No. 99 at the Rolex 24 by second-year returning driver Memo Gidley and team newcomer Darren Law. Although Law will be making his first start with GAINSCO, he co-drove to an overall victory in the 2009 Rolex 24 and won two races last year in a Corvette Daytona Prototype similar to the GAINSCO 'Red Dragon.' "It was really good final test before the race weekend," Law said. "It was good to spend time with everybody and get used to the car. I think the GAINSCO team has a great program, we gathered a lot of information and I feel pretty good about the upcoming race."


GAINSCO's best Rolex 24 finish was a runner-up placing in 2008 with Jimmie Johnson and Jimmy Vasser joining Gurney and Fogarty in the No. 99.  The team is returning to a four-driver rotation for the 2013 race for the first time in three years.  GAINSCO and its winning lineup of drivers will be shooting for its first victory in the day-long classic in three weeks when the GRAND-AM Rolex Sports Car Series returns to Daytona International Speedway for the Rolex 24. With on-track preparations at Daytona now complete, GAINSCO's drivers will shift their focus to maximum fitness and staying healthy in preparation for the Rolex 24. "I'm definitely going to be in the gym," Fogarty. "That and just rest, try and stay healthy, and go over some of the information we gathered in this test and that's about it. Just stay healthy and be prepared physically come the 24."


Gurney came to Daytona this week already trying to get healthy. "I was a little sick going into this test," Gurney said. "Just kind of recovering from some bronchitis, so I need another week off to chill out, but probably some light workouts before the race." GAINSCO/Bob Stallings Racing owner Bob Stallings attended Friday's press conference during the Rolex 24 Roar announcing the GRAND-AM/ALMS class structure for the 2014 season. "This is terrific," Stallings said. "I told Scott Atherton that I've been involved in a lot of mergers and acquisitions through my life, and I'm amazed that there is not the usual group of people who are unhappy or apprehensive. I haven't heard any naysayers or pessimists. Everyone has been optimistic, and all of them are very positive, encouraged and very energized. That makes me feel very good."