NEWS
Grand Am: Rd3 Race Report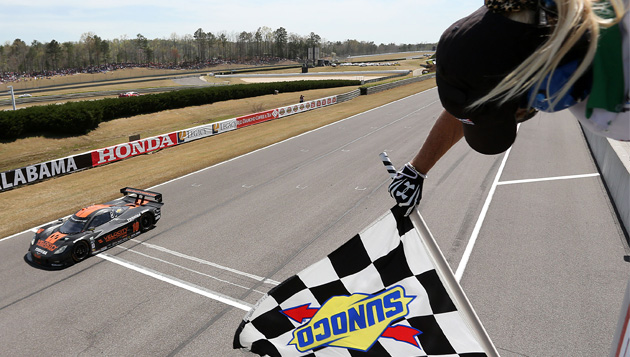 The Rolex Grand Am series travelled to Barber Motorsports Park for Round 3, after a thrilling debut at the Circuit of the Americas venue in early March.

The weekend started off perfectly for Corvette, with the nr99 GAINSCO Racing DP capturing pole position on Friday. However during the race, the nr10 Wayne Taylor racing duo of Max Angelelli and Jordan Taylor saw themselves take the lead with 45 minutes remaining, during a hard fought battle with the nr99 & nr90 Corvettes.

The determined driver never stopped pushing, leading the final 33 laps around the 2.38-mile, 17-turn circuit to post his 22nd DP victory. Co-driver Jordan Taylor, who led five laps during the opening hour, scored his first DP triumph after winning twice in the GT division. It was team owner Wayne Taylor's first win of 2013.

The Angelelli/J. Taylor duo led a trio of Corvette DP's across the stripe to make it an all-Chevrolet podium in the DP class.  Alex Gurney and Jon Fogarty took the checkered flag in second place, with Gurney handling the driving duties for the final stint in the No. 99 GAINSCO/Bob Stallings Racing Corvette DP. In third place was Richard Westbrook wheeling the No. 90 Spirit of Daytona Racing Corvette DP with co-driver Ricky Taylor.

"Congratulations to Max Angelelli and Jordan Taylor on their win today at Barber in the No. 10 Wayne Taylor Racing Corvette DP," said Jim Lutz, Chevrolet Racing Program Manager, Grand Am Racing. "The team did an excellent job with pit strategy throughout the race, and the drivers held off stiff competition in the closing laps of the race to get their wins. It was an exciting finish, and we are pleased that the No. 99 and No. 90 Corvette Daytona Prototypes were on the podium as well. Race results like this are very rewarding for everyone at Chevrolet, our teams and our technical partners that work tirelessly on the Grand-Am racing program."
Additional Quotes:


Wayne Taylor (Team owner):

"This team did an outstanding job this weekend. They worked really hard the whole year. Our pit stops are just terrific and Jordan and Max did an absolutely outstanding job. I owe this to the team. The team has worked so hard since the beginning of the season and, clearly, we've been better than the rest in the pits all season. Sometimes, you need to have a little bit of luck to win these things, but I just can't say enough about this team and how everybody has elevated their game to perfection. A huge thanks to Velocity Worldwide coming on board at the time they did. You know, it was really a tough time at the end of last season trying to get everything together. I owe a special thanks to Paul Blakely, Enda McShane and Brian Stockman from Velocity. And, to Toshiba, who have stuck with us through everything we've done over the years. I have so much to repay them. And then there's General Motors. Everything that Mark Kent, Jim Campbell, Mark Reuss – the support that they've put behind the series and behind these Corvette teams is just incredible. I can't thank them enough. I'm just so happy for everybody."


Max Angelelli (nr10 Wayne Taylore DP):

"For my side it was kind of easy because I only had to maintain the gap looking after the tires so I really babysitting the tires all along. The car was great. Jordan (Taylor, co-driver) allowed me to have such a race.  Easy race, easy stint because he put the car in such a good position ahead of the No. 99 that really helped.  On top of it the team really made a good call. I never thought about it and I was the one pushing the team for only a one stop race but they, as usual, they didn't listen to me.  So we won the race. Continental delivered a great tire compound. Finally they were able to decide their own destiny changing the tires. It was about time. Finally we can practice; finally we can race hard so that was great. Now we have good tires and we can push all the way to the end."

Jordan Taylor (nr10 Wayne Taylore DP):

"It was a pretty exciting day. I would say the first 10-15 minutes before that first yellow wasn't great for me. I got caught in a bit of GT traffic with (Memo) Rojas. We were also saving a little bit of fuel at that point. I knew if the yellow had come and we had to take a stop we would be in a good position to jump them maybe and our guys are always strong in the pits so we were able to get back by them, but we lost a lot of track position. I think we were sixth or seventh in line, but the car was super strong. We were able to kind of maintain a decent pace and pick off guys not aggressively and not taking high risk it was kind of in traffic. I think when I got Jon (Fogarty) he was held up by a GT car over the hill and I was able to get around him. I don't remember a couple of the other ones, but Ricky (Taylor) was another one, he got held up by one of the Nonnamakers I think and I was able to get around him. It was exciting. When you are in the car for that kind of a period of time you don't really know what is going on around you. I didn't know where we were track position wise or fuel wise when we put Max (Angelelli, co-driver) in.  So once I got out of the car, spoke to the guys, heard that we had a decent gap and we were the only ones at that point fully fueled to get to the end I was pretty excited. Those last 50 minutes were pretty stressful.  I'm used to finishing the races in GT so it's a little different on this side, but it was good. Max did a great job."


Jon Fogarty (nr99 Gainsco Racing):

"The opening part of my stint was great. The car was really perfect and I was able to open up a gap and kind of maintain my pace. Then a yellow came out, people kind of mixed up their strategies, and we came out in the middle of the field. Working our way through traffic we came up upon a bunch of slower cars and I just picked the wrong line. I ended up following a GT car through the grass and was just fighting from there. We had a good clean race. The 10 car went around the outside of me for position, it was a good move, but I feel like that is what put us in second place. It would have been great to win, but we are conscious of the fact that we play for championships. Podium points are solid and this moves us closer to the championship."
Richard Westbrook (nr90 Spirit of Daytona):

"No, we were pretty much out of fuel; but that's car racing. Sometimes you've got to play the fuel-mileage game. It's a real shame when you're driving because you know how good the car is and you've got to save fuel. Even with saving fuel, we could race them up to a point and then there was no point and we'd get overtaken in fuel-saving mode. So, we backed-off and brought it home. Good points and I think when we wake up tomorrow we'll all be happy."

"It's good to get our season going with some points. A little bit disappointed because we had a really good car, like we always do here.  When we wake up tomorrow we will be happy with the points when we look at the points table because it looks a lot stronger for us. The team did a great job. Just a little bit unlucky with the strategy. We had to save a lot of fuel during the race, which is part of sports car racing, but it's not nice when you drive in it and you know the car is good. You want to race, but you've got to back off just to get around. That is what makes this sport so interesting sometimes the strategy that is played out.
The next event for Team Chevy in will be at the GRAND-AM Road Racing debut event at Road Atlanta, in Braselton, Georgia, April 18 – 20.