NEWS
Le Mans: Corvette Corral information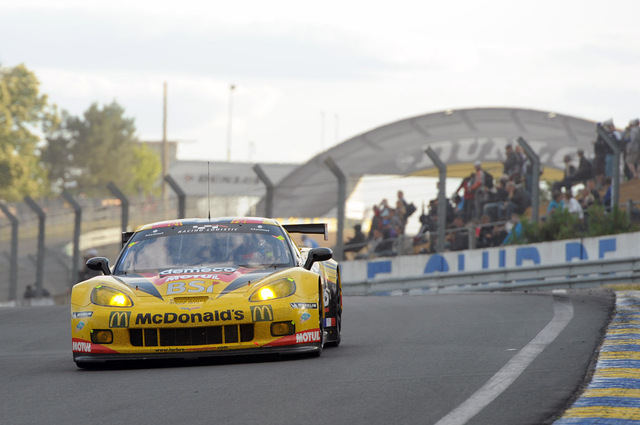 Dear Corvette friends,
This years Le Mans preparation was a frantic process, but the end of the tunnel is here: an agreement was reached with ACO Marketing and we have a piece of land to rest our souls and fiberglass. I will forward your thanks to ACO's Fabrice Bourrigaud and Stéphanie Grasteau, as well of course as to Nancy Van Den Steen, who has always been there to broker our requests and make things run smooth. It won't be the place we have enjoyed in the last 12 years...just possibly better!!!!
But I have an urgency: because of tighter GM budget, I need 30 firm committments with 200€ downpayment (per car & driver) to reduce my exposure and allow me to run to Le Mans drop my check. To make it clear: I would then still be several thousands € off at my personal risk, but just hope to get more than 60 of you coming to get close to break even - and that's just for the land!! We will have to trim on the goodies (for example the over 800€ a pop track laps, unfortunately) depending on the rest of your requirements (the usual spreadsheet follows) but at least we are on the track and will have a great time.
Ah, almost forget: Corvette Racing does sponsor the Drivers' Parade and so I need 17 Corvette for that on Friday, June 21st ! As usual, C1-C2 most difficult to get and most chances to get in!

Sorry it got so late, but that's the call for now:

200€ down to pls pay now (I have to confirm to ACO end of this week):

a) by Bank Transfer to:
Gerard Planche - 24h du Mans
Societe Generale Agence Jean Jaures
78100 St Germain en Laye - France
Account# 51342575 BIC: SOGEFRPP
IBAN: FR76 30003 01874 00051342575 96

or to avoid higher bank costs
b) pay via PayPal at my email address: gerard.planche@gm.com


See y'all soon!

PS: working in parallel on some nice and unique raffle and sponsorship stuff for Corvette's 60th jubilee, stay tuned!

PPS: obviously, should we not reach enough participants to cover those fixed land costs, I'll cancel the Corral and you will be refunded of your downpayment within weeks

Best Regards,
-Gerard Planche
EV Project Manager
GM France
Avenue du Marais 1-9
F-95100 Argenteuil
France
Tel: +33 1 34 26 30 41
Mobile: +33 6 7337 9898
e-mail: gerard.planche@gm.com


Cet e-mail a été envoyé par General Motors France

S.A.S. au capital de 12.939.625 euros
R.C.S. Pontoise B 342 439 320
1 à 9 avenue du Marais, B.P. 10084 - 95101 Argenteuil Cedex